KBE and Ford Motor Company at KubeCon North America Detroit 2022
We've been busy at Kube By Example (KBE) prepping for KubeCon North America 2022 in Detroit! We're super excited to partner with our customer, Ford Motor Company at KubeCon on sharing their cloud-native transformation story and how they used KBE to help get them started! 
You can read the Q&A on SD Times and hear what Beckie Riss, Principal Architect, Developer Relations, Tools & Enablement, Ford Motor Company has to say while riding in a Ford Mustang Mach-E in our KBE Insider car interview series at KubeCon in Detroit! 
If you were at KubeCon in Detroit you may have seen us zipping around the streets of downtown Detroit conducting car interviews for KBE Insider! Check-out our new Twitter handle @kubebyexample for some videos clips and snapshots! We'll be releasing the videos in the next few weeks so follow us on Twitter and stay tuned for the latest and greatest, these car interviews were so much fun! Shout-out to @1angdon for being our  #1 host - you rocked it at KubeCon on minimal coffee (we owe you tons of coffee and stroopwafels in Amsterdam)! 
Thank you @FordDevTeam for lending us the super cool Mustang Mach-E! We're still stoked y'all kept the KBE decals on the vehicle! 
Image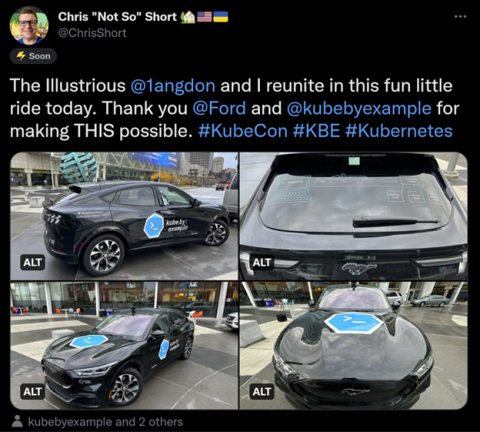 @ChrisShort tweet https://twitter.com/ChrisShort/status/1585260802784698368 
Ford Motor Company is hiring developers with cloud-native skills, check out their careers page for more details! Hear more about Ford's culture and its commitment to invest in its people as well as how KBE was used to help Ford transform their software development teams to upskill their workforce. 
What's new with KBE? 
Here's an update of what KBE launched at KubeCon North America (read the official press blog post):
New Learning Paths:
Site Updates: 
Follow us @kubebyexample
Let us know what you think, you can give us anonymous feedback or join the KBE community forum and chat with the community real time! 
What next for KBE?
As we mentioned, stay tuned we have tons of KBE Insider car interviews we'll be releasing in the next few weeks! 
We're also planning the next updates to our curriculum and site updates to better serve the community so let us know if you want us to update or add from our list of 17 learning paths or DM us on @kubebyexample or the KBE community forum if you want to contribute!
See y'all in Amsterdam for KubeCon Europe where we plan to take our KBE Insider series on the road again (or canal this time?) and don't forget the KubeCon Europe CFP has been extended, deadline is now November 18th submit!