Closing the Skills Gap with AI & Automation Technologies and Training Programs
The rise of cloud technologies and Kubernetes has increased demands on IT teams while also exacerbating the talent shortage. Low-code platforms, AI & automation technologies, and self-paced training programs like Kube by Example (KBE) training provides resources to help close this skills gap through upskilling and reskilling.
In this KBE Insider car interview, Charlotte Dunlap from GlobalData Analyst Group notes that while Kubernetes offers a scalable and elastic platform, enterprises struggle with configuring new application architectures on the platform. This has led to a large global technology skills gap that vendors are working to address. Before Kubernetes, developers quickly deployed AWS services, but operations teams lacked visibility. Kubernetes bridges that divide while introducing new challenges.
Upskilling and Reskilling Existing Talent
According to Charlotte, instead of seeking candidates with specific experience, companies should leverage the institutional knowledge of existing employees. For example, KBE learning paths help with both upskilling - expanding knowledge of new technologies and reskilling - preparing employees for new roles using core talents.
So instead of requiring 7 years of Python experience, companies should focus on software design and problem-solving skills. With time, employees can learn new languages and tools. Close collaboration between developers and operations teams from the start and automation can also help applications transition smoothly to production.
Democratizing Technology Adoption
Low-code platforms, RPA, and AI have broadened access to previously "elite" technologies, enabling vendor training programs. Products like Microsoft Power Platform, IBM Cloud Packs for Business Automation, and Salesforce Flow include technologies that were once reserved only for experienced developers and data scientists. These technologies have expanded the audience for high productivity tools by allowing non-coding users to leverage intelligent automation and cognitive services. In this way, low-code platforms and AI have made it possible for more workers to create applications and automate processes. This in turn has created demand for training programs to help users adopt and implement these tools effectively within their organizations. Low-code and AI technologies represent an inflection point where previously "difficult" capabilities are becoming accessible to the mainstream. With guidance and best practices, low-code platforms and AI can enable digital transformation and close skills gaps by empowering a broader range of workers. 
KBE offers free, on-demand learning paths to dive deeper into how developers and IT staff can start leveraging AI with Kubernetes to automate scaling and manage resources. Visit AI/ML with Jupyter on Kubernetes: JupyterHub for more information.
Bridging the Developer-Operations Divide
While DevOps is ideal, silos still exist. Developers create applications, but operations teams struggle with configuration and deployment. More abstraction is needed to bridge this divide. Balancing pendulum swings will be key - providing developer platforms with enough abstraction for operations teams without sacrificing maintainability. Better communication across roles will help break down silos and enable teams to effectively utilize each other's strengths.
In short, the focus should shift from only seeking candidates with specific experience levels to leveraging existing talent and institutional knowledge within companies. Solutions to the skills gap that help with both upskilling existing workers on new technologies like Kubernetes as well as reskilling employees for new roles using their core talents are critical. With the right approach, technologies like AI and training programs can close the skills gap by empowering workers with tools to learn and adapt. 
Full video at: KBE Insider Amsterdam
Upcoming Webinar on "Reskilling IT Workers Into a Digital Age"
GlobalData's webinar, "Reskilling IT Workers Into a Digital Age", will be live on June 13, 2023, at 11:00 AM Eastern Time. This webinar will provide further insights on the topic of closing the skills gap with AI and automation technologies. 
Image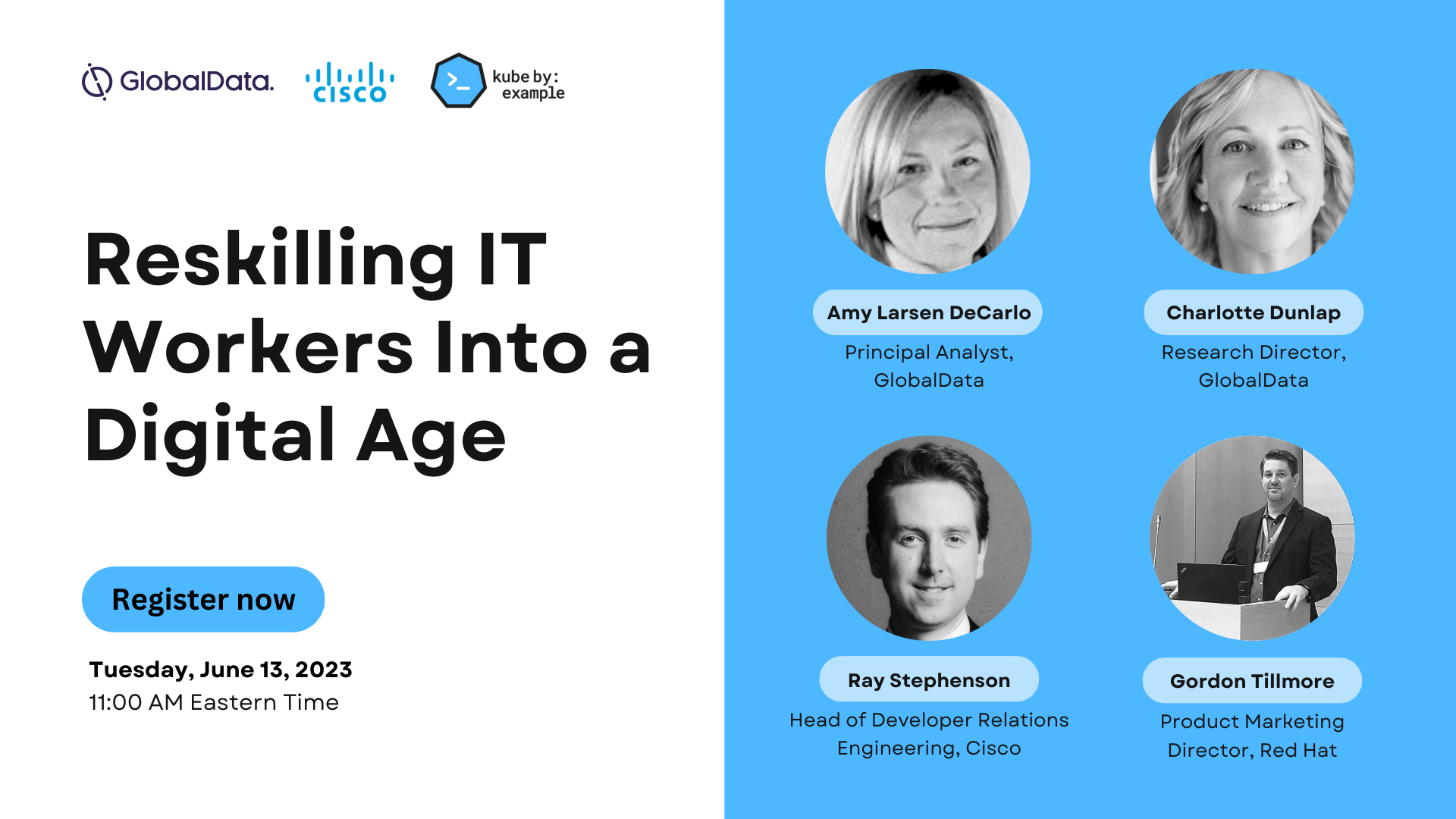 The webinar will examine how enterprises are navigating digital transformation while dealing with internal resource constraints by reskilling and upskilling their existing workforces. Attendees will gain valuable perspectives and advice on how their organizations can leverage AI and automation strategically, develop impactful training programs, and build a workforce equipped to support digital transformation initiatives.
Register here for GlobalData's webinar, "Reskilling IT Workers Into a Digital Age".
Follow us: @kubebyexample
Leave anonymous feedback
Join the KBE community forum